Investing in Art
posted: May 14, 2014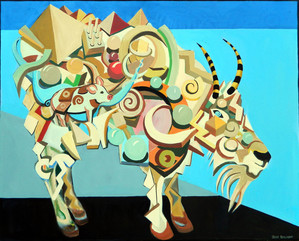 "Mountain goat with Side Pig" recently sold to a Park City, UT Collector
An investment in original art is an investment in contemporary history. An original painting, sculpture, ceramic or glass object can be treasured and handed down through your family for generations? Pick the right piece of art and considerable value may be reaped by your grandchildren or their children.
When my friends grandmother was collecting art in the 1940's, she had no idea the Man Ray watercolor of a tree she purchased would become so valuable. Her granddaughter proudly displays it in her home and talks about her grandmothers exploits to all who visit.
A beautiful painting or sculpture will never lose value and in most cases will appreciate. Do you want your great grandchildren to have a glimpse of who you were? Purchase a painting they can hang in their house or donate to a museum in your name.
We are glued to the TV watching Antiques road Show. Those artists, whose paintings are now worth tens of thousands of dollars, were purchased by the owners or family members for a fraction of the current value. You can do the same for your family by supporting a local artist.
In today's financial climate, investors are flocking to art as an investment. Donating art to a local museum can be an important tax shelter for your family. Supporting your local artist is an investment in your community.
Yes, you can purchase a new car, flat screen TV or a fast jet ski for the same price. These things will eventually break and be discarded. An investment in art will last for generations.